See the TikTok Video Here
News Articles:
YouTube
Real or not? Dinosaur-sized fossilized toad skeleton brings people together.
Sebastopol, CA – What's claimed to be the world's largest toad skeleton to date is turning heads. It all started as a simple floor repair turned into an unbelievable discovery of a six-foot giant toad fossil under the studio floor.
When asked about the authenticity of the find, artist Mark Grieve says, "Through subjective research and countless non-billable hours, my team and I have created one of the most intriguing discoveries that have brought people together in a quest for the truth."
He says this in full confidence of his group's research. Together with a small team at the Rabbit Hole Research Institute, they have found all the evidence they needed to go public with their findings. Posted on TikTok to announce the Discovery of a Giant Frog Skeleton, while on YouTube the witnesses show reactions to The Megla Bufo Giganticus
Megla Bufo Giganticus is the name Mark has adopted and its meaning is vaguely Super Gigantic Frog. Soon after the unearthing, Mark Grieve and Sam Roloff created a small museum around the dig to showcase the fossil and other evidence of the existence of this ancient amphibian.
When asked why now.
"I enjoy playing with the nature of fact, myth and conspiracy,
it's like holding up a mirror to society and seeing a frog,
there is no better time" says Mark
The museum, located at the Rabbit Hole Studios in the north Bay Area, invites the curious to come and see with their own eyes. The exhibition also features historical accounts, and artifacts, with a whimsical look at people's perception of what they believe as true.
Confronting Sam on this he said;
"This is the all the so called evidence you need, just gaze your eyes on all these truths, this is what I am talking about, right here." says Sam Roloff.
When asked
if this is poking fun at YouTube conspiracy theorists,
Sam just says "Emoji Wink Smileyface"
Two weeks ago this artifact was only shown to close friends and researchers to view but now you are invited to see the evidence with your own eyes.
You're invited to visit it today or any day of the week from 11-8 p.m. till November Nov 18th at which there will be a Farewell Celebration from 3:00 p.m. to 9:00 p.m. to send the fossil on the road. The event will include live music, refreshments, and a chance to meet the artists and researchers behind the project.
"We thought we were just fixing the floor…"
says Mark Grieve
Admission is free, but donations are welcome to support the ongoing research and preservation of the fossil.
For more information, visit The Rabbit Hole Research Institute or watch the videos about the discovery.
TikTok
The Rabbit Hole Research Institute is located at 2836 Gravenstein Hwy S, Sebastopol, CA 95472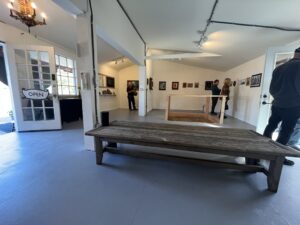 Artist Mark Grieve 2023